GOLD CASSANDRA

Siletti '95 S.r.l. - LINEN PRODUCER
Charlie Jeffery (England / France)
Artistico di Longo Carmine - iron

precious fabrics
The design of the cube is based on the Cassandra design of the Linificio Siletti, and is reproduced in iron, thanks to the artisan of excellence, Longo Carmine. Each face of the cube is furnished with 2 small openable doors, while in the inside two glass shelves allow the fabric to be exhibited.
TIMESCALE FOR REALISATION: 64 hours
MATERIAL: Wrought Iron
TECHNIQUE: Elements hand forged with hammer, soldered individually by blowtorch. Varnished in French gold.
Siletti '95 S.r.l.
Fabric producers have been a very important presence in the economy of Mongrando for some decades now and their origins are indebted to the antique cultivation of hemp in the area. The company Siletti has carried on a textile tradition that goes back five generations. The beginnings of the family concern are recorded in various documents, amongst which is a permit from 1856 given by Vittorio Emanuele II King of Sardinia to Serafino Siletti, textile producer of Mongrando for business in the Lombardy-Veneto region. In 1904 the fist nucleus of the actual premises was built, which in the 1950's saw the company grow strongly in the market. Today Siletti which originally produced for hospitals and navigation companies, offers production of renowned pure and mixed linen, towels, tablecloths and Belgian linens. The substitution of traditional shuttle looms with more modern rapier looms allow production of very wide textiles, in more colours suitable for the adornment
of sophisticated houses and prestigious hotels.
Contacts: via Quintino Sella, 6 - 13888 Mongrando (BI) - Italy
tel +39.015.666253 www.siletti.it
Fabrics
The classic nature of the textiles and the jacquard production, the sartorial care of the production and finishing and the skill of the realisation of made to measure personalised pieces: these are what five generations of textile tradition mean. Cotton and linen of the highest quality are privileged prime materials that along with sober and elegant designs make the Siletti collection a luxury made to last. The classic style is redesigned and the process is reconsidered in each single detail to the point of drawing the guidelines for a new elegance.

Charlie Jeffery - artist
Born 1975, England. Lives and works in Paris, France.
His practice confronts raw & found materials with language & energetic performance. The physical destructive action in performance or in the studio, interweave with strategies of display & complex editing in video films and installed texts. Balancing immediacy with irony, his work blurs the usual hierarchy between objects & trash, slogans & philosophy, collection & homeless DIY, monument & sketches. In 2001 he was a resident at Fondazione Pistoletto and has been involved with various projects & exhibitions with the them since then, notably AIM (Through walls) project, with Il cambiamento È inevitable completed in 2005 & the ongoing project Turning point literature. He has recently finished a three residency at Mains D'oeuvres, St Ouen, France with his first solo exhibition Sculpting time. In 2008 he took part in the Biennal of Rennes with his project Mud Office in collaboration with Dan Robinson. Mud Office also won the LaboHO competition for which they created the installation Mud in your eye, Mud in your garden at galerie Histoire de L'oeil, Marseille. He also took part in performance festival Amorph! 08 in Paris, France & Helsinki, Finland.
Contacts: www.charliejefferyunderconstruction.blogspot.com
Artistico di Longo Carmine - iron
The firm Artistico was founded in 1992, with the acquisition of a generic carpentry business that had gone into liquidation. Determination and the wish to stand out have made Artistico's credibility grow within the biellese district, above all in the field of wrought iron. The firm is in continuous expansion: in 1994 the employment of two tradesmen, in 1997 the creation of a photographic catalogue and from 2000 the initiation of a network of representatives. Today, the Artistico firm boasts a hangar, a shop, a workshop furnished with machinery for working wrought iron, around 300 clients and continuous work in four regions, and also some clients abroad. They are currently working on a new catalogue. "The greatest satisfaction is to be able to give life to a simple iron bar", this is Carmine Longo's motto.
Contacts: Via Repubblica, 12 - 13866 Masserano (BI) - Italy
tel: +39.015.99150 www.artisticodilongo.com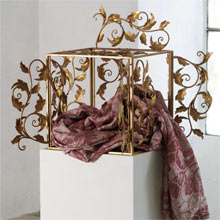 click on pictures to enlarge