FACE CUBE

Eventi & Progetti Editore - Books
Alfredo Luis Vasquez Elorza (Colombia)
De Pasquale Francesco - booksbinder

inside the book
According to the Colombian artist Alfredo Luis Vasquez Elorza, letters and images, are not only elements with which you can construct messages, but above all they are the means for transmitting feelings: they are the desire, the ideas and the dreams that the writer wants to evoke through the action of writing. The cube therefore, that displays the publications of the Biellese publisher Eventi & Progetti, is constructed as an object that allows you to see through the letters, those self same letters that create the words that make us feel different emotions.
REALISATION TIME: 38 HOURS
MATERIALS: Wood and leather
TECHNIQUE: Cube, with a wooden core, can be opened in 4 sections with magnet fastenings, covered in 2 colours of leather, also internally up to the edge of the letters, finally finished with smoothing operation from hot iron and a wax polish. Internally the three letters of the alphabet are in pinewood, made and applied according to the project.
Eventi & Progetti Editore
From 1992 E20Progetti has made project planning its strong point, uniting creativity and experience with the enthusiasm of people who love their job. The company develops plans of institutional and product communication, integrating strategies above and below the line. Message, sender and recipient: always three elements, but the ways in which they are
placed into relation can be one, none (almost never), or one hundred thousand. Beginning from the analysis of the contents to be expressed and the target be reached, E20Progetti enriches, using imagination, the know-how needed to maximise the efficiency of each project, offering themselves as the ideal partner for those who are looking for a unique interlocutor for communication, setting up scenarios, and publishing. With this philosophy they pursue their mission coordinating passion, ideas, images and words using various instruments: institutional brochures and catalogues, flyers, logos, coordinated images, ad pages, promo gadgets, packaging and any other kind of paper or multimedia material to promote brands, products and services.
Contacts: Via Milano, 94 - 13900 Biella - Italy tel +39.015.2529201
www.e20progetti.it

Books
Nonconformism. This is above all necessary to be publishers who care about being glocal and for publishing niche books aimed at a national market. Other than this: precision, fantasy and a lot of caffeine. This is the secret recipe for the completion of publishing projects on which writers, editors, translators and graphic designers work with great passion. Publishing has always had an important role for E20Progetti, today we offer in our catalogue titles from diverse areas: history, art, photography, design, nature, territory, wine gastronomy and narrative. All these publications are also available for purchase at the website www.e20progetti.it
Alfredo Luis Vasquez Elorza - artist
2004 Unidee in residence, Cittadellarte-Fondazione Pistoletto
2005 Fine Art - Universidad de Antioquia/ Medellín-Colombia.
I have worked since high school as a freelance graphic designer, now i work as a teacher in the Universidad de Medellin and share an office with some friends called CasaIngenia (www.casaingenia.com), where we design ad campaigns, P.O.P, exhibitions, design and objects.
De Pasquale Francesco - bookbinder
"Throughout the years I have specialised in the binding and restoration of antique books, and in 2002 I was recognised as an Artisan of Excellence by the Piedmont Region. This trade is fascinating and complex. Restoration means to know how to fix damages done to the inside of a book or to the cover, so you need to be good at working with paper, leather, wood and parchment. Conservation restoration can also be aesthetic: for example if woodworm has damaged the cover of an old book, the leather can be worked and the missing section can be replaced, executed so that the final product looks as much like the original as possible. For the heat embossing of text onto the spine of books I often use tools I have made myself. Part of my work is to recover old work techniques: in the case of the cubes where I had to dye leather, I used aniline, if I need to make decorative paper; I use ox gall, following eighteenth century techniques."
Contacts: Via Repubblica, 27 - 13897 Occhieppo Inferiore (BI) - Italy
tel +39.015.592924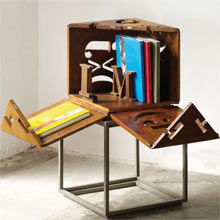 click on pictures to enlarge