DRINKING GAME

Liquorificio Rapa Giovanni S.r.l. - Ratafià Liqueur
Margarita Vazquez Ponte (Scotland)
Pigato Roberto - wood

the tasting pleasure
Margarita Vazquez Ponte has made a cube in wood; an organic material that best suits Ratafià, which is made from natural ingredients. The idea is that of a dice, giving six possible positions for the bottles, in the recessions present on each face. The metaphor of the game continues inside: the drinking game serves to try the different qualities of the product.
TIMESCALE FOR REALISATION: 35 hours
MATERIAL: Noce nazionale (walnut) wood
TECHNIQUE: Made entirely in real wood. The cubes sides have been cut at a 45° angle so that once assembled it will not show any visible signs of a join. The niches are made by grinding with a pantograph, while the indentation for the bottle in the upper internal panel is sculpted by hand. The external text is incised by hand with an electric chisel.
Liquorificio Rapa Giovanni S.r.l.
Ratafià is one of the oldest and most unique Piedmont liqueurs.
We don't know where the name comes from, but in our region, it is becoming practically synonymous with cherry liqueur, identifying itself with the town of Andorno. The liqueur producer Giovanni Rapa has been located at Andorno Micca that since 1880, they produced the original and unique Ratafià of Andorno. The first traces of the origins of Ratafià emerge more than 1000 years ago! Angelo Brofferio, in Le tradizione Italiane (1848) reported on the legend of the origins of this liqueur that in the first millennium rescued the population of Andorno from the plague. More than 120 years after its inception, the liqueur producer Giovanni Rapa carries on its production with unchanging art and passion. Other than Cherry Ratafià, made from the juice of selected black cherries, sugar and aromatics, there are also. Apricot, Hazelnut and Juniper versions, also produced are the digestifs of Oropa, Walser and Pratetto, the Genepy, the Certosa of San Giovanni, Honey Grappa, Blueberry Grappa and many other liqueurs, all fruits of centuries of tradition.
Contacts: via G. Cantono 13 - 13811 Andorno Micca (BI) - Italy
tel +39.015.473605 www.rapa-giovanni.com

Ratafià Liqueur
Black Cherry Ratafià, like Apricot, Hazelnut and Juniper Ratafià is not distilled but alcoholated, which is a process of maceration. Prepared with the juice of selected black cherries, sugar and aromatics and particularly appreciated for its soft flavour. It is recommended to be drunk with ice, soda or on its own. It is an excellent ingredient in desserts, with fruit salad or ice cream.
Margarita Vazquez Ponte - artist
Nationality Scottish/Spanish
Education:
2002 - 2004 - Edinburgh College of Art - MFA Tapestry
1998 - 2002 - Edinburgh College of Art - BA (Hons) Tapestry
1990 - 1994 - University of Edinburgh - MA (Hons) Art History
Since 2004 UNIDEE in residence she has collaborated with Cittadellarte- Fondazione Pistoletto on various long-term projects including the conception, development and realisation of the Habituszegna museum/installation in Trivero for Ermenegildo Zegna. She has also been involved in design projects such as the development of merchandise for the Chianti Classico consortium.
She has participated in art workshops for Cittadellarte in Biella, Trieste, Udine, Venice and Brussels. She regularly collaborates on art projects as well as some commercial graphics for the clothing and textile firm Ermenegildo Zegna. Currently involved in various commissioned and solo film projects and is a part time tutor in the Drawing and Painting Department of Edinburgh College of Art.

Falegnameria Pigato - wood
Falegnameria Pigato, founded in 1970, provides general carpentry services such as doors and windows, furniture, stairs and restoration. In 1984 Roberto Pigato joined the company as an apprentice to his father and then worked for another company who built shop fittings. In 1999, Roberto Pigato decided to reopen the family concern with some new ideas and perspectives, offering standard carpentry services but specialising in the area of doors, windows and entrances, furniture making and restoration work.
Contacts: Frazione Bozzone, 14 - 13866 Masserano (BI) - Italy
tel +39.015.96091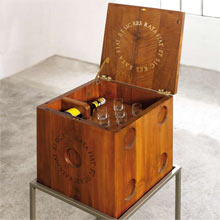 click on pictures to enlarge