AROMA

Catto Caffè Torrefazione - Coffee
Rakhi Peswani (India)
Micheletti Mauro s.n.c. - steel and glass

a transparent chain
The Indian artist's idea represents and accommodates the strong need to tie tradition in the working processes of Catto Caffè, which uses a slow toasting method and high quality coffee, along with the technical development of the company thanks to the use of modern machinery. The lower steel part of the cube recalls the concept of technology and the internal images, the cycle of production from harvest to final product. The joints are hinged thus allowing the glass cubes to be rotated, creating a game of transparency through the images and other materials used.
REALISATION TIME: 65 hours
MATERIALS: stainless steel, glass, prints on transparent film.
TECHNIQUE: lower part in stainless steel sheets, soldered with electrodes and with tig welding, grinding to create invisible joins, final smoothing of surfaces. Upper part in stratified 3+3 glass, joined using UV ray glue, internally printed images on a water adhesive film.
Catto Caffè Torrefazione
The Torrefazione Catto Caffè have always distinguished themselves by their constant care in the research for quality using precious Arabica coffee. Established in the 1940's it still maintains today a family style management and the artisan character of its products.
"Selecting the best arabica coffee in the world to give you the best coffee possible."
Contacts: Via per Muzzano, 6 - 13900 Biella - Italy tel +39.015.590338
www.caffecatto.it

Coffee
The "Crema Bar" and "Prima Qualità" blends are biellese artisan specialities; they are the result of a selection of the best coffee in the world, roasted in the old fashioned way.
Decaffeinated: We have dedicated a long time to study a blend of 100% Arabica coffee that has been decaffeinated: the slow traditional toasting with air cooling and the right resting time give the coffee a sweet and delicate flavour and a round aroma.

Rakhi Peswani - artist
She has been teaching at the Fine Art Department of the University of Hyderabad since 2004. She attended the Cittadellarte UNIDEE Residency in the year 2006. She has also attended a two-month Residency programme at Sanskrithi Kendra, in New Delhi, in the year 2008. She has held two solo shows in Mumbai and has been participating in group shows in India and abroad. She lives and works in Hyderabad, India.
Contacts: http://snschool.googlepages.com/rakhipaswan
Micheletti Mauro s.n.c. - steel and glass
Mauro Micheletti - constructions in wrought iron. Mauro had already developed a passion for iron in his youth and after a period as an apprentice at various workshops, he approached the art of metal forging. In the laboratories of experts, he developed his creative skills. Thanks to his passion for learning about anything new and his desire to transform anything in
iron, which if not worked of course remains static, he went to study further at the "Sermig" school of Turin where he took courses in forging. He is also an expert in techniques for restoring antique objects with the reconstruction of missing parts. In 2005, he was awarded the mark of Artisan Excellence.
For Mauro, iron is a medieval material: it brings to mind the forges of that time, and the effort that was needed to control the iron and perhaps because of this he prefers simple designs coming from tradition or the surrounding nature and the essentiality of lines and the accuracy of execution. Mauro carries on working with the same methods of bygone times because he is convinced that the secret of this art is in the love for what he creates and he displays with pride, his forge and anvil that are still in use today. In 2005 he is awarded with The Artisan Excellence.
Contacts: via Guglielmo Marconi, 38 - 13894 Gaglianico (BI) - Italy
tel +39.015.2543001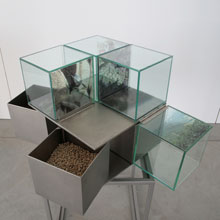 clicca sulle immagini per ingrandirle