WOOL YOU BEER SOMETHING ELSE?

Birra Menabrea Spa - Beer
Katia Meneghini (Italy)
Il Fiore di Cardo - felt

not only a display case
Katia Meneghini's idea of using felt comes from its thermal and isolating properties. All of which adds up to an actual refrigerator, where the core container was conceived to maintain the temperature of the product, thus having fresh beer ready for samplings.
The external openings take the form of stylised waves and refer to water: essential element in the production of beer. Finally, the artist suggests the possibility of a series of cubes placed to create a wall forming a mini bar, containing other drinks or small objects.
REALISATION TIME: 70 hours
MATERIALS: covering in felt (2kg of wool). Central core structure: iron and glass.
TECNICHNIQUE: carded wool soaked in hot water and soap, massaged and rolled until felted. Repeatedly slammed onto a flat surface in order to become tough and compact, rinsed and left to dry. The felt is then cut according to the measurements of the cube and glued piece by piece
Finishing: all the pieces have been made to join by directly refelting them by hand with water and soap at their meeting points. Final wash under water jets and then dried with a towel. Finally, the central structure is covered.
Birra Menabrea Spa
Born in 1846 and today run by managing director and fifth generation of the family, Franco Thedy. Menabrea Beer is located in the heart of the town of Biella in a building from the 1800's preserved to its original characteristics. Inside there is a museum that tells the story of the company through period machinery and fittings, historical posters, bottles, labels, documents and photographs.
Well established in the Italian market, Menabrea's points of strength lie in being firmly positioned in the "premium" market, thanks to the production of an elite beer, an optimum quality- price balance and the development of true synergy with the group Birra Forst who have been involved since 1991.
Success and recognition permeate the story of the company: from the first diploma of honour long ago in 1882 till the recent medals at the World Beer Championships of Chicago USA in november 2008: gold medal for Strong and Amber, and silver for Blonde in their respective categories. It's secret? The ability to renew whilst remaining faithful to tradition and the artisan quality of its products, and the promotion of Made in Italy in a market where the multinational is normally king.
Contacts: via Ramella Germanin, 4 - 13900 Biella - Italy tel +39.015.2522320
www.birramenabrea.com
Menabrea Beer
From 1996 as well as the premium traditional blonde lager of the 150th Anniversary, full bodied, short fermentation and made with spiced yeast which gives the aroma of fruits and flowers, they have also produced Amber beer of the Maerzen variety, with its typical bronze coloured reflections obtained from an old recipe.
From 2005, two new beers have been introduced to complete their range: a blonde double malt beer of 6.5% alcohol, and a speciality Christmas celebration, Menabrea Christmas Beer.
Katia Meneghini - artist
Born 1981, in Cittadella in the province of Padova. Graduated in Conservation of Cultural Heritage from Ca' Foscari University; subsequently specialised in Projection and Production in the Visual Arts from l'università IUAV of Venice. Founded with Thanos Zakopoulos, CTRLZAK art & design studio.
Participated in collective exhibitions in Italy and abroad, amongst which:
2009: IGVFest Guerrilla Video Festival, Dublin, Ireland, My Folder, March Foundation, Padova;
2008: International Biennale of Design, Saint Etienne, France, ¿Qué Pasa?, Urban Design, Medellin, Colombia, Seven Workshop, Bordeaux, France, Metamorfosi Urbane, Festival of
Creativity, Florence;
2007: Recityng, Noloco Studio, Padova, Projeto Marcozaro, participating project, San Paolo, Brazil, Real Presence, Belgrade, Serbia, Flowting Sites, collateral event for XX Istanbul Biennale, Turkey, Tonicorti Film Festival, Bastione Santa Croce, Padova
2006: Vestiti d'arte, Vercelli, Italy, Leggimi+Vicino, In Primo Luogo, Turin, Italy, Nuovi segnali, Palazzo del Levitano, Padova;
2005: 89ma Mostra Collettiva at Fondazione Bevilacqua la Masa of Venice, International Biennale of Art of Peking, China, Pro-Art, public art project, Randers in Denmark.
Contacts: http://katiameneghini.com | www.ctrlzak.com

Il Fiore di Cardo - felt
Coda Zabetta Valeria's Il Fiore di Cardo is an artisan workshop for felt making, which opened on the 6th of October 2004. It is situated in the old Riva quarter of Biella. It originated from the communal project "the young people's workshops of Via Scaglia", conceived to revalue the historical area and to launch new artisan activities.
Valeria has attended professional courses at the humanità art center of Cabbiolo (Switzerland) and a course on natural textiles in Tuscany. She has made works that are in exhibition at MIAO International Museum for Applied Arts in Turin.
She alternates her winter activities of felt making with her summer job as a manager of an alpine refuge situated in the Biellese pre Alps.
Valeria gives courses on the various techniques of felt work at infant, primary and middle schools, at public institutions, her own workshop and at mountain refuges. She also develops activities on behalf of third parties.
Contacts: via Scaglia 2/A - 13900 Biella - Italy tel +39.320.2957072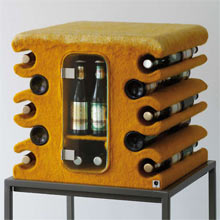 click on pictures to enlarge