MADE BY MAN

Gabba Salumi - Paletta (Biellese salami)
Maria João Calisto (Portugal)
Ramella Bon Andrea - steel
sampling table
The Made by Man cube by the Portuguese artist Maria João Calisto, is inspired by the traditional Biellese Salami, and represents a board for cutting, presenting and eating the product. The designs on the faces of the cube, made from stainless steel and cut by laser are inspired by the logo of Salumificio di Vigliano. Inside the cube are ceramic plates and glasses, each one individually imprinted with the image of a man, a woman and a child (made by man - fatto dall'uomo)
TIMESCALE FOR REALISATION: 60 hours
MATERIALS: iron, steel, wood
TECHNIQUES: The structure of the cube is made from cut, soldered and ground iron. For the wooden face openings, small iron tubular support arms were made. When opened, the cube becomes a table for exhibiting the products of the Salumificio di Vigliano. The bearing structure has been polished, brushed and varnished. The sword is furnished with a forged and ground stainless steel blade, while the wooden handle relates to the letters T & Q, to underline the Quality and the Tradition of the biellese territory .
Gabba Salumi
www.gabbasalumi.it

Biellese Paletta
The Biellese Paletta is a gastronomic speciality of guaranteed quality and local tradition. For its production the most prized cuts from the back of piedmontese pork are chosen. Following old recipes it is flavoured with herbs, berries and aromas. It is massaged daily by hand for around one month and checked at every phase of its maturing process.
Maria João Calisto - artist
Born in 1970, Lisbon, Portugal. Lives and Works in Oporto.
Advertising Engineering at Fernando Pessoa University, Oporto.
Photography Course at Youth Foundation, Oporto -1994/95.
Artist-in-residence at Cittadellarte, Fondazione Pistoletto, Italy -2001. Author of the ILLY Collection No water no coffee - 2002. Freelance Photographer -1996/2009. Photographic trainer in Prison -1998/2002 - and in a Social Institution for children – 2001/07 Freelance Copywriter - 2007/09. Editorial Coordinator of Espaço Contacto magazine, Espaço T -2007/09.
Projects:
Made by Man Cubes in Motion, Cittadellarte Production Office -Fondazione Pistoletto, Italy -2006
SOS ART(E) Project / AIDS - 2005/07 and SOS ART(E) Project / lymphoma - 2000/06
Vietato l'accesso - River Park Festival of Biella, Italy - 2003
SOS ART(E) Project /hapiness (Author and co-producer) exhibitions to be held in the waiting rooms of health care facilities Oporto 2001, European Capital of Culture, Oporto - 2001
BIG Torino, International Biennale of Young Art, Turin, Italy - 2002

Andrea Ramella Bon - iron
The workshop of Andrea Ramella Bon was founded in 2001, after seven years experience as the employee of an artisan. In the workshop they carry out all types of iron and stainless steel work, making banisters, gates, gazebos, stairs, platforms and all types of furnishings in hand forged wrought iron. The company manufactures products of quality with care and for this reason, the artisan firm of Andrea Ramella Bon was awarded the mark of Artisan Excellence by the Piedmont region.
Contacts: Via per Graglia, 22 - 13898 Occhieppo Superiore (BI) - Italy
tel +39.015.2593554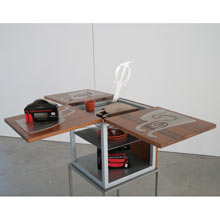 click on pictures to enlarge