CUBED WATER

Lauretana SpA - Water
Aziz Ceho (Bosnia and Herzegovina)
Giulia Chiaberge - ceramics

sustainable lightness
The cube projected by Aziz Ceho consists of four L shaped independent elements from the product name Lauretana. These units, similar to open shelves, exhibit some of the ceramic work created by Giulia Chiaberge, connected with the theme of water (teapots and cups), and the Lauretana bottles designed by Pininfarina. The four elements can also be used individually, hung on the wall, like shelves for books, objects, and vases...
TIMESCALE FOR REALISATION: 20 hours
MATERIALS: White semire clay. Natural colouring. With white engobe glaze on the inside.
TECHNIQUES: Entirely made by hand without the use of machinery. Baked once at 970°C for 12 hours, with a resting time in the kiln of a further 12 hours.
Lauretana S.p.a.
Arriving in the Biellese territory you will notice to the northwest, the trapezoidal mass of Mombarone. From its slopes, above an altitude of 1000m, flows LAURETANA, the lightest oligomineral (low mineral content) water in Europe.
However, this mineral water comes from much further afield, after a long underground route that develops from its source, the glaciers of Monte Rosa. We need to go back in time to 1883 to see the construction of the thermal baths that were instantly patronised by high ranking individuals, such as queen Margherita, Giolitti, Carducci, De Amicis, Eleonora Duse and many others.
In the 1960's began the business of bottling and merchandising the water, named LAURETANA in honour of the Madonna of the Graglia sanctuary.
Today, LAURETANA water is sold all over the world and is recommended by doctors and homeopaths thanks to its particular lightness. The culture of light water only recently discovered in Italy has in fact been well established for some time in many countries in Europe and the rest of the world.

Lauretana Water
Lightness is a rare quality... among the characteristics of a mineral water, the fixed residue, i.e. the quantity of minerals it contains is the better-known variety. Water with a low fixed residue and low acidity is fundamental to assure optimal absorption and efficient elimination of the any waste by the body's metabolism. Lauretana water, with only 14 mg/l, has the lowest fixed residue levels of all mineral waters produced in Europe. Its faint acidity levels (pH 5.8) and its low sodium content (1.1 mg/l) make it, as well as particularly light, perfect for all kinds of food alimentation. Lauretana water is recommended for baby milk formulas. Its acidity facilitates the optimum pH level for peptic activity in the stomach.
Lauretana water flows limpid and pure from a source above 1000m, from mountains that neighbour the glaciers of Monte Rosa, in a territory free from environmental pollution. It represents the ideal water for all those circumstances where it is important to have light water that does not agitate the body but instead helps it to carry out its functions in a natural way. Lauretana guarantees you an incomperable lighness.
Contacts: Frazione Campiglie, 56 - 13895 Graglia (BI) - Italy
tel +39.015.2442811 www.lauretana.com
Aziz Ceho - videoartist
Date of birth: 12/03/1979.
Place of birth: Sarajevo, Bosnia and Herzegovina
Education:
1993 – 1997: High School of Applied Arts, Department of Graphic Design,
1998-2003: Academy of Fine Arts Sarajevo, Department of Product Design
Activity:
He works in the field of design, video, TV and music as a filmmaker, cameraman, designer, technician and editor. Over recent years work has focused on video activism and documentary recordings, producing and supporting independent media projects, doing alternative media evaluation and research, collaborating with writers, artists, actors and filmmakers through the process of making digital media works.
Terraterra - Giulia Chiaberge ceramic production workshop
Fascinated by the creative possibilities of clay, in 1986 Giulia Chiaberge began to learn about its manipulation and the techniques of throwing at the workshop of Giulio Lanza. She moved to Pavia in 1989 where she frequented the workshop of master artisan Claudio Ramaioli, at first as a student and then and till the present as a collaborator. In 1996 she founded the Na.Tur.Arte. Cooperative in Biella with whom she developed teaching activities and guided visits to the Eco museum of terra cotta of Ronco, Biella.
Since 2006, she has coordinated a five yearly didactic project with a class from the primary schools of the area, together creating an "editorial" project for the students on the history and techniques of local ceramic production.
In 2002 she opened the TerraTerra studio in Via Mazzini 31, Biella: one year later she gained the mark of Artisan Excellence from the Piedmont region, who selected her in 2005 and 2009 for the Workshop School project.
Contacts: Via Mazzini, 31/A - 13900 Biella - Italy
www.terraterrabiella.com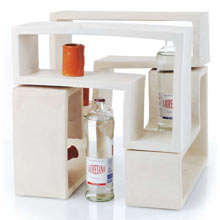 click on pictures to enlarge